Customer Testimonials
"Wavelength's detailed reporting and analysis help me determine the return of my internet marketing dollars. Not only do I have a great Web site, but I know exactly what it does for me."
JoNell Reed, Owner
Heartland Log Homes
"The Wavelength team has simplified everything about our online football league, from the draft to the weekly updates. Their content management portal is a lifesaver."
Gary Fortuin, Commissioner
Wild Football League
"Wavelength Interactive made the entire Web design process easy. From the initial design to the final product, they made sure I was happy every step of the way."
Stacy Johnson, President
Heartland Exchange, LLC
Success Stories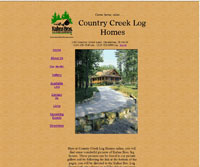 Country Creek Log Homes (Before)
Client's Goal: A great-looking Web site that grabs potential customers' attention and makes them say, "Wow!"
The Wavelength Solution: We offered several potential attention-grabbing designs to the clients, then worked with them to tweak the design until it was exactly what they wanted.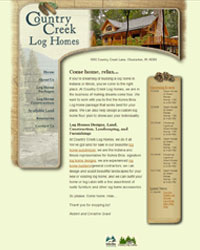 Country Creek Log Homes (After)
Client's Goal: An expandable site that can be made to accommodate photo galleries of completed projects.
The Wavelength Solution: We created a photo gallery template that can be used to update the construction section every time a new house is built.